Northridge Alumni News & Information

If you have a news or information item that would be of interest to other NHS alumni, please send to the

website coordinator.
Bill Sandifer To A Classmate
September 16, 2017
Editor's note - Bill was president of his class, played sports, U.S. Army veteran and is a frequent contributor to the NHS Alumni Bear Facts.

Well....as I recall....YOU lived on Gypsy Dr....almost between N. Dixie and the 4-lane highway....that's about a mile S. of my street....Harding...4 N. of Maggie's
My neighbor was Berlinger's ... they had a teen daughter (Julienne H.S. student) that came down with polio soon after we moved there in May 1945. She spent at least 3 years in an Iron-Lung they had setup in their dining room. Don't know how long her brother stayed home.....not too long...he got home about this time of year and swoosh---he was gone....in that wonderful car.... a 1936 Cord Model 810 convertible Coupe in baby blue.
Anyway...you weren't in our area unless you came up to play with Maureen O'Connell (in our class) & her sister. Were there any others ?
I got a paper route deivering the Morning Journal.....began that in late August '45....they said I was the 1st one doing Home Delivery....all by mail before. Had 28 customers beginning at Stop 8 road and went all the way to The Bridge (N & S).........mostly straight down N. Dixie until I got past NHS and then
I'd go a few blocks right & left....UNTIL I got to Ridge Ave....then I followed Ridge almost to Triangle Park...half of my customers were in that area. Most were really well off (compared to our family)-----Business Owners in Dayton....Mr. Tarzinski was one that area., Jim Weikert's Father, Ward
Weikert, who was a County Deputy Sheriff, was one on Ridge....
I grew that paper route from 28 customers to 64 customers in early '47....The Circulation Mgr SPLIT my Route.......I CRIED FOR 3 DAYS !!!!!! ...all that work !!
Interesting thing happened 13 years later....when I interviewed for a Sales Position with Monarch Marking (where I retired after 40 years).
During an initial interview...the Sales VP was doing a Q&A about my Sales experiences....anytime in my life....Of All the different sales experiences you've
had in OR business experiences......What ONE Memory was The Hardest for you to LIVE WITH...????
My reply took him off guard...... I told him about Splitting my Paper Route with I was 11 years old and Crying For 3 Days...!!!!!!
He laughed.....and his reply was..... WELL, IF WE HIRE YOU...I HOPE YOU'LL HAVE MANY SESSIONS OF 3 DAY CRYING SPELLS !!!!!!!
I was Blessed with Success almost all of my 40 year career with Monarch. The Sales VP was the Son-in-Law of Monarch's Founder and at
least one time each year for my first 6 years (2 in Omaha Territory & 4 in Manhattan (NYC), Hal Shaw, the VP, ALWAYS would tell that story
when he would be introducing me on Annual Sales Achievement Meetings.
A Fathers Day Story
By Bill Sandifer, Class of 1953
Went to LA on Thursday...calling on my customers who had Distribution Centers...particularly SAKS.
Met up with Harald Stavenas...my Sales Mgr.
Friday OJ was in the Bronco.......
Saturday a.m. Harald, (his wife- Carole) and I went to Palm Springs
Carole asked me me what I'd be doing if I was home....?
"Probably going to a garage sale..., maybe we'll find one in Palm Springs..?"
It wasn't 5 minutes...outside of Palm Springs there was GARAGE SALE sign w/arrow.
She was reluctant at first, but we stopped....not a fancy place...but found interesting items...
WHO CAN SAY THEY EVER BEEN TO A GARAGE SALE IN PALM SPRINGS ???????? WE DID !!!!!!
Took the Palm Springs Aerial Tramway...before you get to the town....https://www.pstramway.com
Saturday Nite we attended a Retirement Surprise Party for our friend, Monarch West Coast Sales Mgr., Tom Schofield.
NOW THE REASON FOR WRITING THIS FATHER'S DAY TALE ......
We were en-route to EWR (Newark NJ) at 45000 ft.
I was thumbing thru the airlines magazine scrutinizing the air-route map....and where we were at that moment.
I could seen The Great Salt Lake out the window....and our future track over Denver etc.
It dawned on me that we were tracking DIRECTLY OVER NEBRASKA.
I'm familiar with JET / Private Plane Air Routes on Aeronautical Charts and KNEW we would be DIRECTLY
ABOVE MY IN-LAW's Home Town of York, Nebraska.
They had those telephone in the back of the head rest...thought I'd try a phone call...but it had to be timed right !!!!
Told the Stewardess of my thought ....asked if the Flight Engineer could announce when we crossover into Nebraska.
They accommodated me.....When her announced it, I began the phone connect attempt.....IT WORKED !!!!!
It was a Clear, beautiful visibility day......I could see York, Nebr. .... I could see their street/house.......I got them on the phone!!!!
ALL THE PEOPLE SITTING AROUND US HAD BEEN TOLD WHAT I WAS DOING.....THEY ALL YELLED .....
HAPPY FATHER'S DAY DON..........FROM 45000 FT. !!!! WONDERFUL...!!!!
DON AND DOROTHY RAN OUT INTO THE STREET AND WAVED LIKE CRAZY AS WE FLEW ON !!!! IT WAS GREAT !!!!!!
GREAT FATHER'S DAY MEMORY..........
MUSCLE CAR
Bill, What was your favorite muscle car?
Well...you have to think in terms of Generation Gap... :)

An first thought is the Rocket 88. Then the Olds 442....but that wasn't what was on the streets/tracks in my formative/H.S. years...
OR...what we thought about/worked on/played with.... or borrowed....

My 1st thought goes to the 1st car I drove...on my own...at age 13 (in'48)...stick shift(on the floor)...'38 Chev sedan(my folks)
I'd watched Mom function....clutch..."H" shift...brake...putting in gear when shutting down...arm signals...plus...
I really wanted GO on my own. I DID! ...even took my 9 yr old brother with me....Bob. We drove for at least 45 minutes...
All Over Northridge--the area just North of the Miami River going N on IR-75(which wasn't there when I did this-all country)
My Dad always worked 3rd shift at Dayton Rubber Co., so he was asleep. No close calls...all went well.

At 14, my driving exposure changed a lot. Was hired as a farm worker by Fulton Farms. They had 80 acres of bottom land on
Frederick Pike, along the East Bank of the Stillwater River. Bill Fulton was in our H.S. and I was a promising football player.
Got exposed to tractors, farm equipment and a 16 cylinder Chrysler Engine that ran their irrigation pump on the river. During irrigation,
Mr. Fulton Sr., 70 or so at the time, always had someone with the engine when it was running. I pulled that duty often. So, I had exposure.

Another young guy that worked there lived just down the road...a straight road to the farm. His Dad had restored a Model T Pickup.
It was gorgeous. He often would drive it to the farm and give us all (about 5 guys) "hands on". What Fun !!

When I got to be 15 1/2 I committed to a 1936 Ford, 2 Dr Sedan....85 hp, stick shift for $125...sold it 1 month after graduating H.S.('53)
Had to save for schooling at Manchester College...tuition was $1000 for the year...took 2 jobs...carpenter's helper with a warehouse builder
working at Dayton Rubber Co.----B.G.Danis Co. from 7-4pm and at Gallagher's Drug Store from 6-10pm(McCook S/C) Not many dates that
summer...had to save every nickle. Had a great experience that summer as a bene from the Drug Store Pharmacist....a middle age bachelor.
Learning of my self imposed discipline that summer, he let me use his brand new '53 Red Buick Roadmaster Convertible every weekend.

Sooooo....this was my muscle car at that stage .....sorry I expanded your question.....Bill Sandifer, NHS class of 1953
The Salesman
Billie & I were married 4/21/62...a Saturday...she was teaching at Corrigan School in So. Omaha and had to be on the job on Monday.
We decided we'd do a Honeymoon Trip after the school year....to The Black Hills of So. Dakota.

My Sales Territory for Monarch Marking had Rapid City, SD as the furthest northwestern town in my territory in the Black Hills...and I hadn't been
there...sooo...our Honeymoon Trip was a Sales Trip. There were no Interstates yet. We were gone 1 week on this Sales Trip.

The current pix above has a tree sitting next to a building...this was dubbed as "Billie's Tree" in Kimball, So.Dakota. I parked Billie in the shade under this tree....while I made Cold Calls to see IF & How the 2 retail stores were marking their merchandise.... my product...price marking machines & supplies for retailers. She had a book and was happy and comfortable. It was a warm, sunshiny day...not overly hot. We were 25...young & anxious...

I "cased" the General Store first. The owner knew I was a salesman....wearing a tie in the summer & a brief case...25 & a crew cut...fit the profile.
I told him I was going to call on the guy across the street about HIS Marking System but I was early. I was just wondering how Others marked
their merchandise before I talked to the Drug Store about developing a cost code system for his drugs & merchandise.

Well, he said, IF I have time..."give ME a briefing on merchandise marking & control". I told him fine....but I may have to break away as I wanted to
see the guy across the street at the top of the hour....we had 1/2 hour to go for that.(I'd never called on the guy across the street yet...BUT...I wanted "to
see him at the top of the hour) Long story short....I began an order for the 1st guy....didn't finish it as I excused myself and to call on the guy across the
street as the guy at the first place wanted me to be ON TIME....(my desire).

Called on the 2nd Store....Owner wanted to know what I was selling...Told him I was working with the guy across the street on a System for Marking HIS Merchandise...but we had to take a Break....so...I had some time before we could finish...so, I just thought I'd see How Your Drug Store was Marking YOUR merchandise...? i.e. cost codes & purchase date + Price....etc, He decided HE wanted one also....so I wrote his order.....took it with me back to the FIRST GUY as I finished writing HIS ORDER (MY 2nd ORDER IN KIMBALL, S.D.)....Told the First Guy about Billie sitting in the shade reading...2 1/2 hours had gone by....

Billie's Tree is STILL THERE....according to the Chamber of Commerce's current Pix above.....

We had fun and a GOOD LIFE....!!! Bill Sandifer NHS '53
A Virtual Tour Of The New K-12 Northridge School
The new Northridge K-12 School is due to open in the fall of 2019. Construction will begin approximately in the spring of 2017. To begin you tour click HERE.
More from Bill Sandifer, Class of 1953
LET'S SEE WHAT WAS I DOING 4/8/59...??? I WAS 23...FREE, WHITE & SINGLE...
I WAS DRIVING A '55 CHEV CONVERTIBLE....BURNT ORANGE FRONT & SIDE PANELS / WHITE REAR TOP PANELS & REAR, WHITE WALLS...LOVED THAT CAR.

AT THAT TIME I HAD BEEN WORKING IN DAYTON, OH. FOR A FINANCE CO. FOR 6 MONTHS...GOOD GROUP TO WORK WITH & FOR....ACTIVE...DID VERY WELL.
ALMOST TOO WELL AS THEY WANTED ME TO MOVE TO COLUMBUS, OH., I DECLINED...THINK I WAS MAKING $75/WK...LOTS OF DATES...NO PHOTOGRAPHY
INVOLVEMENT AT ALL...COULDN'T AFFORD CHEMICALS ETC., NO DARK ROOM/EQUIP. STAYED WITH THAT CO. 'TILL JUNE '59. WENT TO WORK FOR MY UNCLE
AT THE STANDARD AUTO PARTS CO. WHICH HE OWNED. I WAS A COUNTERMAN....PAY WENT TO $100/WK. MET AN OLDER H.S. FRIEND AT A PICNIC SEPT. '59 WHO
WAS BUYING A 2-SEATER AIRPLANE...BOUGHT 1/3 SHARE IN THAT....$500 (MY SHARE)...TOOK FLYING LESSONS FOR $5/LESSON FROM AN AF CAPTAIN, WRIGHT-PATTERSON AFB TEST PILOT...SOLO'd JAN. 3, 1960.

THEN IN SEPT. 1969 I MET A GUY WHILE BOWLING
HE ASKED ME IF I'D EVER THOUGHT ABOUT BEING A TRAVELING SALESMAN.....TOLD ME AN EXCELLENT COMPANY IN EAST DAYTON (MONARCH MARKING) WAS LOOKING FOR SALES TRAINEE'S....THEY HAD A 3 MONTH SALES/SERVICE TRAINING PROGRAM. HE ENCOURAGED ME TO "GO FOR AN INTERVIEW" AND LEARN WHAT MY STRENGTHS / WEAKNESSES WERE.

LONG STORY SHORT....MONARCH MARKING HIRE DATE - NOV. 7th, 1960......HUNG IT UP SEPT. 7th, 2000.

GLAD THE LORD LED ME...GREAT LIFE !!!
GOOD ARMY SECURITY AGENCY FRIENDS FOREVER...GOOD MEMORIES - DISCHARGED OCT. 10, 1958

BILL SANDIFER........BAD AIBLING, GERMANY '56 - '57
SCHNEEBERG, GERMANY '57 - '58
--------------------------------------------------------------------------------
From Bill Sandifer, NHS Class of 1953
I live in a Gated Community....lots of over-seeing from their Home Owners Association.

Great neighbors...WWII Vet / brought home war bride from Deutschland.
Both still mentally on THE edge of most everything. Original Owners since '97.
Know how to bend the rules re: landscaping in pursuit of bettering their place.

Did a Spring Cleanup. Within 10 days received a citation re landscaping modifications
on the BACK of their property. NO ONE IS EVER BACK THERE ! Who would know?

He was to pay a $25 fine for the infraction and "correct" the problem.

The ctation said he'd "altered the Natural Habitat." He was directed to RESTORE IT !
He was called to the monthly HOA meeting to pay and give evidence of his restoration effort.

He had pix of before & after the "infraction".....They looked EXACTLY the same.
They were going to fine him another $25 for his "mocking" of their process..from seeing his pix.

They asked him if he'd like to say anything or just pay the $50 and leave ?
He had acquired receipts for plants, original vs. more current version etc.

His explanation for the apparent "No Difference Showing in his Pix" was.....
He had 3 statements from local Plant Places....."We Do NOT SELL POISON IVY! "

The HOA dismissed the whole thing.... :) :) ;)
Bill Sandifer, NHS Class of 1953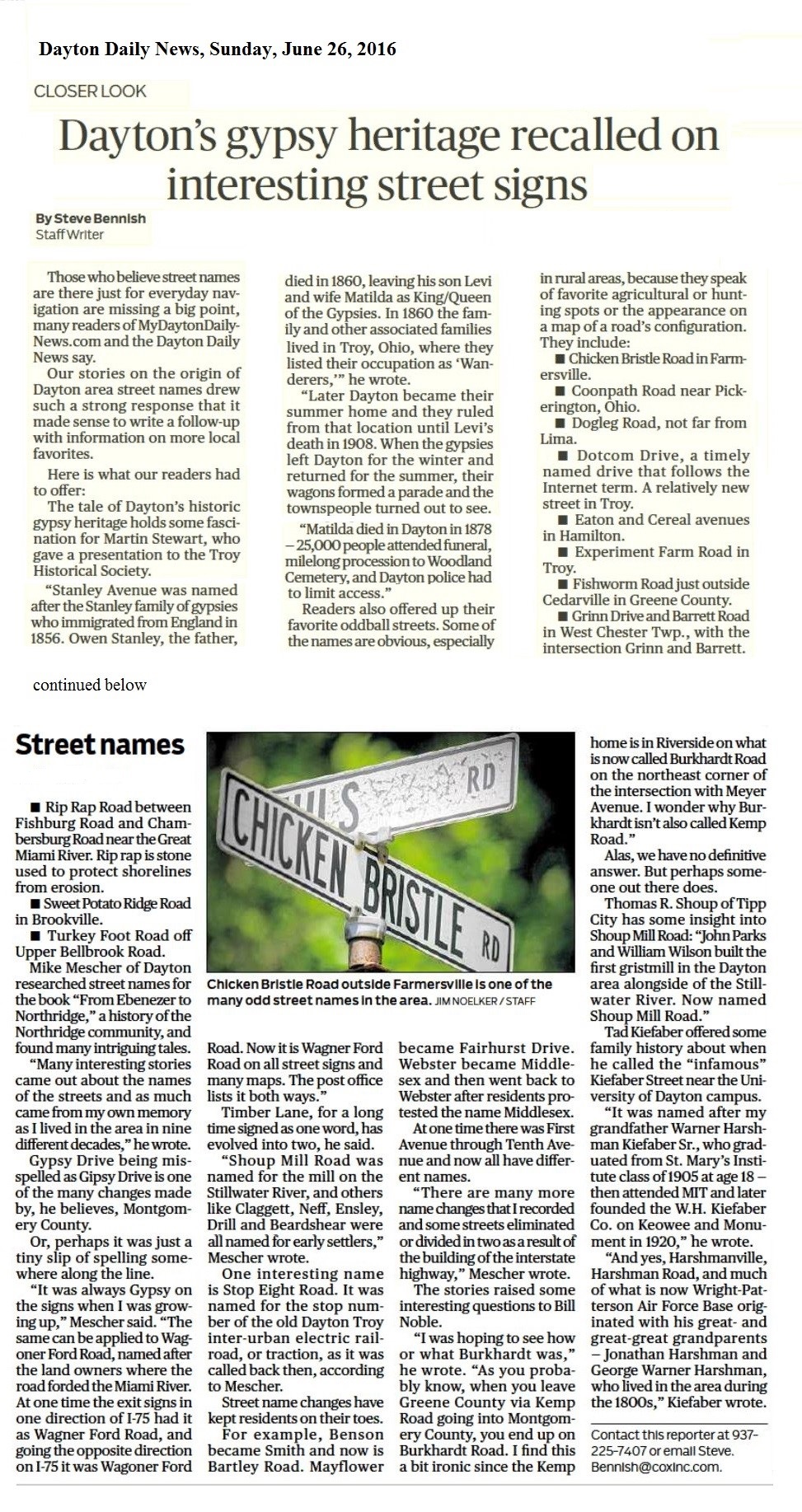 From Bill Sandifer, Class of 1953
When I was 10 years old I delivered the Dayton Morning Journal newspaper in my neighborhood. I was doing collections and so I had to directly meet the homeowner.
I was really young and did whatever my customer asked. This "Old" Lady handed me her money and when I held my hand out for the money, she grabbed my hand, turned it over and looked at my fingernails. She said I'm SO pleased you are coming to MY house. Your hands are beautiful. You are going to have a wonderful life. Your hands have the most perfect "moon" on each finger. You Are Blessed ! May I kiss each of your fingers? Which she did and every time I collected, she would kiss each of my fingers.
She must have been right. I've been Blessed all my LIFE !
From regular contributor, Bill Sandifer, class of 1953
My private flying offering for the day (one special story/recall/memory)...A story within a story...
In the early years (mid- '60's), we'd moved from Nebraska to Long Island ('63)...couldn't afford flying...
THEN...I hit upon a way I could afford it...an Addendum was added to the GI Bill Educational Program.
The key was that you had to sign up with your goal to attain a "Commercial" Rating. Thus began my pursuit of happiness...again.
I'd bought a share of a Luscombe 8A in '59 for $500(1/3)...so beautiful...got an Instructor (AF Captain at Wright-Patterson AFB).
He had his plane based in New Carlisle, OH airport next to ours. He charged me $5/hr for full instruction and he was certified
as a Civil Air (before FAA) Check Pilot....so....I could get everything from the same person...that eased the mental level...knowing what
to expect.
Capt. Adams was a wonderful friend/pilot/instructor/ teacher. The Luscombe 8A was a tricky plane to fly...a tail dragger...65 hp.
Later found out the Luscombe 8A had a common reputation of difficult to master cross-wind landings....but once mastered you were
just about guaranteed that you could pilot almost any similar small aircraft. I loved dealing with the wind in landings...sometimes on
the approach I'd be SIDEWAYS (facing into the wind) until just (I mean seconds) before I touched the ground.....you'd just
kick the down-wind rudder, keep the up-wind wing tucked into the wind and it would be like MAGIC....you'd be on the ground.
Also in Country Flying (most places where Single Engine Land planes go) it was more than helpful to learn how to handle Emergency Landings.
To that End...my instructor, Capt. Adams, would have me
create an Emergency
and taught me how to Deal with it...Actually Do It !!!
We landed in fields...learned how to deal with unlevel terrain...landing up-wind & down-wind...engine problems...slipping the airplane at altitude
to try to put out an engine fire...learning how to "hop" over a fence if you see you're landing Short of the runway...fly it into the ground at
full throttle...picking the right field, open area to put-it-down so you'd live and not kill someone...we did all that...I practiced a lot on my own doing
the things he taught me...and over the years, it saved my "skin" more than once....many other stories in the well.... ;)
With this as my background, in the mid-'60's, under the GI Bill, I got my Commercial / Instrument Ticket...in getting all that I must have
totaled 125 hours by that time. I'd look for any & all opportunities to get "stick time".
One comes to mind that was slightly different. I was flying out of Farmingdale, NY's Zahn Airport--on the South Shore of Long Island...all rentals.
To get "stick time" you had to be Checked Out in each type of Single Engine Aircraft you wanted to fly by an Instructor. Most times a guy mentally
works his way UP THE LADDER of different Aircraft (features, power, avionics, range). Well, I deduced that to amass hours and afford it, I'd
learn to fly the LEAST EXPENSIVE airplane Zahn's rented...and extend my alloted monies under the GI authorized amount. SOOO...I began flying
Piper Cubs (J-3)...the Little Yellow Plane we've all seen pictures of....it would be flying LOW and SLOW...but the time accumulation would occur better this way.
A Piper J-3 Cub

One event in that pursuit occurred that in hind-sight is notable and was fun & exciting in doing it.
My friend, John Harrington, now a retired college president in New England somewhere, kept saying he'd love a "ride". We were young & foolish....why not?
I'd said to John...Bring a fishing line with you and we'll try that when we get to Montauk.
Soooo...I get the Piper Cub and sign out for a 5 hour trip....about 100 miles one way...flying there was fine(with the wind).
We got there in about an hour.
Coming Home was a whole different story. We had a Head Wind of about 30 mph. The Cruise speed is around 75 mph. Well, with a headwind of 30 mph,
we were barely doing 45 mph ground speed.....Cars were passing us on the ground below. We were going so slow that I got the wild ass idea that we could
drop down to just a few feet above the ocean on the South Shore and TROLL from the airplane.... We actually did that that for a few minutes...THEN....
after thinking it thru....what would happen IF we snagged anything...we might be dragged DOWN into the ocean...OMG!! It was fun.
It took us 2:15 to get back to Zahn's....Safely Home. One Heck of an Experience !! Bill
We tried it for a few minutes
My First Job
My first job (9 yrs old - 1944) was at a Aldrich's Sunoco Service Station at 2800 North Dixie Highway in Northridge, Dayton, Ohio.

Filled oil bottles, washed windshields and rear windows, mirrors, emptied ashtrays, wet toweled dash board ------
all service free for customer, got tips plus $0.25 per hour!
Bought my 1st (almost new) Schwinn bicycle. It had knee action on front wheel, chrome fender with streamlined
headlight on the front, chrome panel in middle of frame with a push button horn, large bright leather seat with coiled springs on corners, and custom Schwinn reflector on rear fender, AND White Wall Tires! Bought it from the gas station owner for $25 and bought it on extended payments of $5 per week!
"My new Phantom sure is a beauty. All the fellows say it's the swellest looking bike in town." Sure is the swellest. Schwinn Phantoms were the most bodacious, luxurious, and feature-filled bicycles on the road. There was the deluxe leather saddle, the patented spring fork, built-in horn, streamlined tank, Schwinn fender lights and an automatic brake light, an integrated lock.

Many years ago, I found a replica of that bicycle in green...still have the replica...paid $25 for the replica! :)

Thanks for sharing and nudging me into remembering my first job & bicycle.
Bill Sandifer, NHS class of 1953
When Dayton was Home to the Gypsies
Check out these fine wheels owned by NHS alumni. Have a special car, submit a picture,

HERE

, of your car for posting on the alumni car show.

Click on yellow convertible to go to the car show.
1955 Chevrolet BelAire and 1955 Ford Thunderbird
Old Northridge High School